Posts Tagged 'airport'
Monday, October 1st, 2018
(Sweden) SoLBLoMMa – Charles de Gaulle (The Terminal Mix)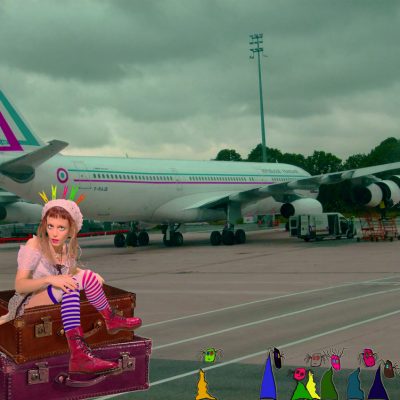 Stockholm's Queen of Quirkiness returns with a re-mix of a track released earlier in the year – 'Charles de Gaulle'. But this isn't any old remix. It marks the return after 20 years no less of legendary Swedish producer Johan Vävare, known as the Brian Eno of his country, who apparently now resides in Vietnam and whose production skills have not been heard on any Swedish release since the late 1990s.
In the 80s and 90s Vävare established himself as one of Sweden's leading music talents, with soundscapes and ideas that were integral parts of classic recordings with a host of Swedish stars too long to mention but which did include the Bowie-a-like Thomas di Leva, who is himself undergoing a renaissance at the moment.
I lost count of the instruments and paraphernalia Vävare's added here – everything from a harpsichord to an alarm clock – but nothing overshadows the almost plaintive piano riff, which he left untouched. The line "Attention please, will all passengers travelling with SoLBLoMMa to Planet Earth please report to the information desk" is pure genius.
Vävare said, "One day I happened to find SoLBLoMMa online – an irresistible blend of Goldfrapp, Pippi Longstocking and Albert Einstein. I just had to make contact with her! I mean, how many other artists create IQ-tests in their spare time? I really love this song… Emptiness. Time that stands still. A crazy, lonely lady walking around the terminal talking to herself" … "The airplane will come and get me". Her dreams of flying away… elsewhere… sometime… maybe…"
It speaks volumes about SoLBLoMMa's idiosyncratic appeal that Vävare was tempted out of retirement to do this re-mix. She's an acquired taste but more than ever we need these people operating at the margins of society to help keep us sane.
'Charles de Gaulle (The Terminal Mix by Johan Vävare)' was released as a single on September 14th and is featured on the EP 'Come and Have a Coffee with Me at Charles de Gaulle' (released September 28th).
That EP also features a remix by EvOLu who works with members of Depeche Mode and Peaches and contains the original single mix and two new remixes by Solblomma herself.
8/10
Tags: airport, Charles de Gaulle, GB, review, solblomma, tv, UK
Posted in image, music, news, SoLBLoMMa | No Comments »
Sunday, September 16th, 2018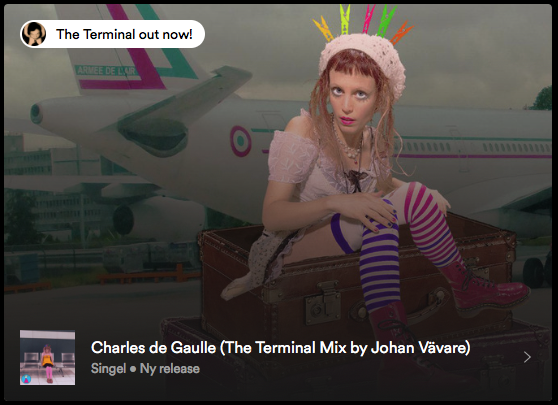 Efter att det engelska livsstilsmagasinet PHOENIX Magazine hyllat hennes senaste poppärla Charles de Gaulle som "ett mästerverk från ett alternativt universum" släpper idag SoLBLoMMa – Sveriges kanske mest egensinniga artist – sin med stort intresse emotsedda nya singel Charles de Gaulle (The Terminal Mix by Johan Vävare). Singeln bjuder på det första svenska livstecknet på närmare tjugo år (!) från den legendariske och mytomspunne producenten och musikern Johan Vävare. Sedan flera år tillbaka bor Vävare i nordöstra Thailand och SoLBLoMMas singel är första gången sedan det förra milleniet som hans unika sound och fantasirika produktionsteknik hörs i Sverige.
– En dag bara hittade henne på nätet – en oemotståndlig blandning av Goldfrapp, Pippi Långstrump och Albert Einstein, konstaterar Johan Vävare. Jag var ju bara tvungen att ta kontakt! Jag menar hur många artister bygger IQ-tester som hobby?
Om sitt studioarbete med The Terminal Mix berättar Vävare:
– Jag ville ta fram bagladyn i låten. Tomheten. Tiden som står still. Den tokiga, ensamma damen som går runt i terminalen och pratar för sig själv…"the aeroplane will come and get me". Hennes drömmar om att få flyga iväg någon annanstans… någon gång… kanske…
Den svenska synthpionjären Johan Vävare etablerade sig på 80- och 90-talet som något av "en svensk Brian Eno" och hans innovativa produktionsbidrag till klassiska inspelningar med bl.a Ratata och Mauro Scocco, Reeperbahn och Olle Ljungström, Thomas Di Leva, Lädernunnan / The Leather Nun, Lustans Lakejer, Lars Demian (Demian D), Stonefunkers, Eggstone, Tom Wolger's Mockba Music, Caroline af Ugglas, Fréda, Ubangi med Orup and Cia Berg, Martin Rössell, Lars Cleveman och Kitchen & The Plastic Spoon, samt även Bo Kaspers Orkester, Traste Lindéns Kvintett och Marie Bergman, har placerat honom i en helt egen kategori på den svenska musikscenen.
Samarbetet med SoLBLoMMa har för övrigt nu även resulterat i att den svenska artisten medverkar som sångerska i Vävares asiatiska produktioner.
Det engelska livsstilsmagasinet Phoenix hyllade i våras poppärlan Charles de Gaulle som såväl innerligt gripande som surrealistisk och drömsk – "a four-minute masterpiece from an alternative universe." SoLBLoMMa har tidigare i år uppmärksammats även av andra engelska musikbloggar (toomanyblogs, Gig Soup etc) och i maj presenterade den stora engelska bloggen God Is In The TV som "a unique performer with a unique vocal".
Charles de Gaulle (The Terminal Mix by Johan Vävare) släpps idag worldwide på samtliga stora digitala plattformar (Spotify, Tidal, iTunes, Apple Music,Google Play etc).
"A four-minute masterpiece from an alternative universe"
PHOENIX Magazine (UK)
"A unique performer with a unique vocal"
God Is In The TV (UK)
"Sveriges charmigaste artist"
Popmuzik.se
SoLBLoMMa Charles de Gaulle (The Terminal Mix by Johan Vävare) ISRC: SE3DA1801701 Skivbolag: COMEDIA Distribution: Phonofile / The Orchard Releasedatum: 14 september
Tags: airport, Charles de Gaulle, Comedia, Johan Vävare, Paris, solblomma
Posted in image, news | No Comments »
Saturday, April 28th, 2018
Tags: airplane, airport, arlanda, Charles de Gaulle, solblomma, Václav Havel
Posted in image, music, SoLBLoMMa, Video | No Comments »