sticky
September 16th, 2018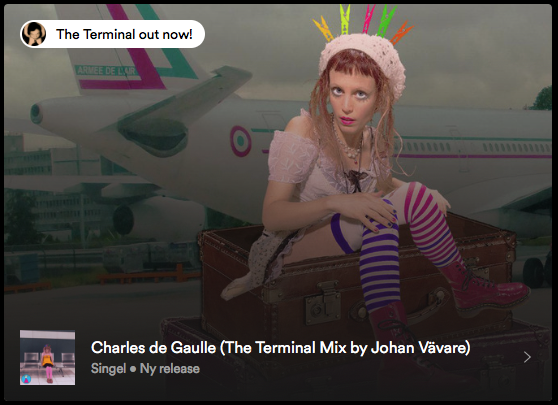 Efter att det engelska livsstilsmagasinet PHOENIX Magazine hyllat hennes senaste poppärla Charles de Gaulle som "ett mästerverk från ett alternativt universum" släpper idag SoLBLoMMa – Sveriges kanske mest egensinniga artist – sin med stort intresse emotsedda nya singel Charles de Gaulle (The Terminal Mix by Johan Vävare). Singeln bjuder på det första svenska livstecknet på närmare tjugo år (!) från den legendariske och mytomspunne producenten och musikern Johan Vävare. Sedan flera år tillbaka bor Vävare i nordöstra Thailand och SoLBLoMMas singel är första gången sedan det förra milleniet som hans unika sound och fantasirika produktionsteknik hörs i Sverige.
– En dag bara hittade henne på nätet – en oemotståndlig blandning av Goldfrapp, Pippi Långstrump och Albert Einstein, konstaterar Johan Vävare. Jag var ju bara tvungen att ta kontakt! Jag menar hur många artister bygger IQ-tester som hobby?
Om sitt studioarbete med The Terminal Mix berättar Vävare:
– Jag ville ta fram bagladyn i låten. Tomheten. Tiden som står still. Den tokiga, ensamma damen som går runt i terminalen och pratar för sig själv…"the aeroplane will come and get me". Hennes drömmar om att få flyga iväg någon annanstans… någon gång… kanske…
Den svenska synthpionjären Johan Vävare etablerade sig på 80- och 90-talet som något av "en svensk Brian Eno" och hans innovativa produktionsbidrag till klassiska inspelningar med bl.a Ratata och Mauro Scocco, Reeperbahn och Olle Ljungström, Thomas Di Leva, Lädernunnan / The Leather Nun, Lustans Lakejer, Lars Demian (Demian D), Stonefunkers, Eggstone, Tom Wolger's Mockba Music, Caroline af Ugglas, Fréda, Ubangi med Orup and Cia Berg, Martin Rössell, Lars Cleveman och Kitchen & The Plastic Spoon, samt även Bo Kaspers Orkester, Traste Lindéns Kvintett och Marie Bergman, har placerat honom i en helt egen kategori på den svenska musikscenen.
Samarbetet med SoLBLoMMa har för övrigt nu även resulterat i att den svenska artisten medverkar som sångerska i Vävares asiatiska produktioner.
Det engelska livsstilsmagasinet Phoenix hyllade i våras poppärlan Charles de Gaulle som såväl innerligt gripande som surrealistisk och drömsk – "a four-minute masterpiece from an alternative universe." SoLBLoMMa har tidigare i år uppmärksammats även av andra engelska musikbloggar (toomanyblogs, Gig Soup etc) och i maj presenterade den stora engelska bloggen God Is In The TV som "a unique performer with a unique vocal".
Charles de Gaulle (The Terminal Mix by Johan Vävare) släpps idag worldwide på samtliga stora digitala plattformar (Spotify, Tidal, iTunes, Apple Music,Google Play etc).
"A four-minute masterpiece from an alternative universe"
PHOENIX Magazine (UK)
"A unique performer with a unique vocal"
God Is In The TV (UK)
"Sveriges charmigaste artist"
Popmuzik.se
SoLBLoMMa Charles de Gaulle (The Terminal Mix by Johan Vävare) ISRC: SE3DA1801701 Skivbolag: COMEDIA Distribution: Phonofile / The Orchard Releasedatum: 14 september